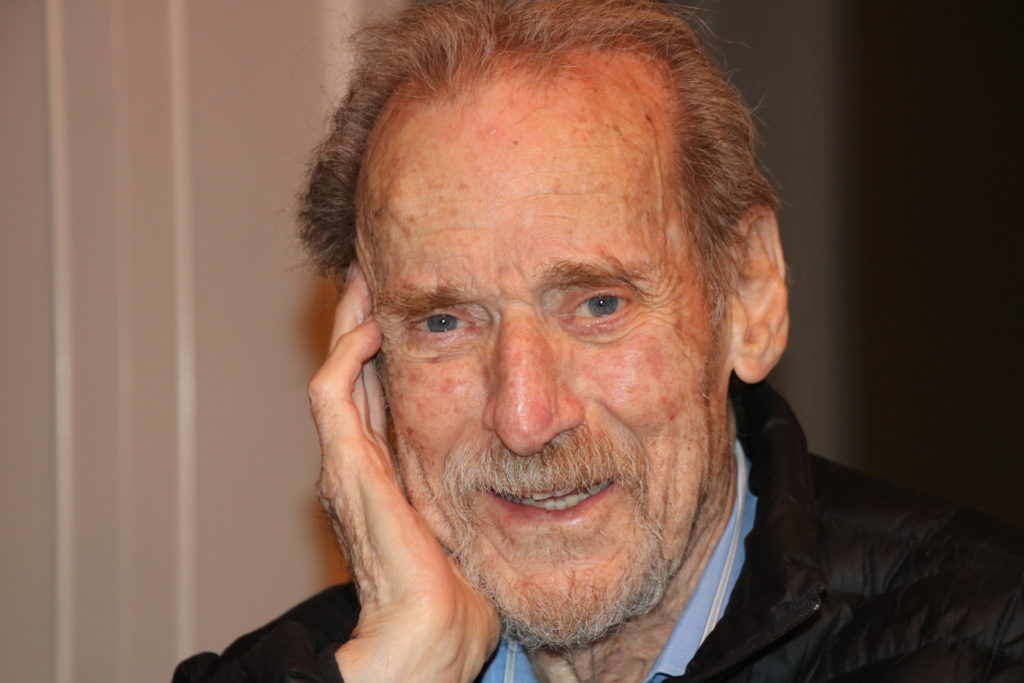 Fredric Arnold (formerly Kohn)
1/23/1922 – 5/28/2018
Family and Friends —
Dad devoted his life to helping people appreciate the incalculable human cost of war.  His monument to the US Airmen killed in WWII was his way of communicating that terrible loss.  It was fitting that he passed away on May 28th, 2018… Memorial Day.
His monumental sculpture, "Lest We Forget: The Mission", fulfilled his vow to honor the more than 88,000 US Airmen Killed during the war.  He completed the seven-year project at the age of 94.
A life-long artist, he appreciated beauty wherever he found it.  He had no desire to go to war… but answered the call when the need arose.  The horrors of the war scarred him deeply and he vowed to honor the twelve out of fourteen of his original Group and the countless others killed in war.  He created the monumental bronze sculpture of twelve airmen in a mission briefing to depict what he called the "quiet heroism of deciding to go on yet another mission, knowing it was Russian Roulette and that some would not return".
Following the war, he led a full and varied life as an inventor (creator of the aluminum folding chair), writer (best-selling autobiographical novel, "Doorknob Five Two"), businessman (several successful companies), writer (best-selling autobiactor (appearing in more than 20 movies), public speaker (lecturing to hundreds of groups) and prolific artist (in varied media ranging from sand sculptures to fine art).
Dad is survived by his loving wife, Natalie, of 73 years, his three children, Marcie, Dana and Marc, his five grandchildren and a circle of friends and supporters that span the globe.
To honor his memory, we invite you to visit www.LestWeForgetSculpture.org, take a moment of your day to contemplate on the debt we owe to the countless young men of WWII to whom we owe so much.  He dreamed of seeing two of his sculptures exhibited to the public, one in Denver, the other in New Orleans.   If you are moved to do so, click here make a contribution through the website to help fund a second casting of the sculpture.
With boundless love for my father, pride for his life's accomplishments and admiration for who he was,
Marc Arnold
Marc.Arnold@LestWeForgetSculpture.org